10 Best-Performing Players in the 2022-23 UEFA Champions League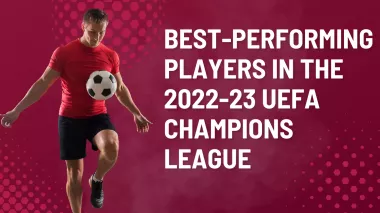 The UEFA Champions League Season 2022–2023 has undoubtedly been exciting so far. Every season, it brings together some top football players from around Europe to compete for the title. It can be challenging to decide who to watch while identifying the top UEFA players because there is so much talent on exhibit. Fortunately, we have compiled a list of 10 of the best-performing players in this season's tournament who are sure to make soccer streaming a great experience.
Vinícius Júnior
Vinícius Júnior is definitely a leader among his peers and is one of the most talented footballers on the planet. He stands out as one of the better-performing players in this season's competition.
Vinícius brings an impressive array of technical skills and athleticism that few other players possess. His signature free-kick technique has seen him score many spectacular goals over his career. He can often be relied upon to deliver a moment of brilliance when it matters most. Additionally, he has become renowned for his ability to remain calm under pressure. Vinícius Júnior maintains his composure during high-stakes moments. And that is imperative when competing in such a prestigious tournament as the UEFA Champions League.
Lionel Messi
With world-class players from some of the biggest clubs competing for the title, every match in the champions league promises intensity and excitement. Lionel Messi is one player who is certain to be at the peak of his game this season. Throughout the past ten years, the superstar from Barcelona has constantly been among Europe's top players. He is looking set to light up this year's finals as well.
source - https://unsplash.com/photos/39PRqQsMUcw
Messi currently leads all European footballers in goals and assists since 2016. He possesses a total tally of 139 goals and 84 assists across all competitions. In last year's Champions League alone, Messi recorded a ton of goals and assists - making him one of the competition's top performers overall.
Kevin De Bruyne
The Belgian midfielder has been instrumental in his team's success so far. He looks set to play a major role in their push for European glory.
De Bruyne has already made his mark on the competition, scoring two goals and providing four assists in City's first seven matches. His creativity, technique, and passing range have proven invaluable to Pep Guardiola's side. He has undoubtedly frequently made the difference between his team's success and failure.
In addition to this, he has also shown remarkable consistency throughout the season. He has played every game so far without missing a beat - which is quite remarkable given the number of minutes he has put in.
Mohamed Salah
One of the most sought-after players to watch out for is Mohamed Salah. The Egyptian footballer has been known for his impressive performances in both Premier League and European competitions. Undoubtedly, making him one of the best players in UEFA clubs.
Salah's career started with El Mokawloon in Egypt before moving to Europe, where he played for Basel and Fiorentina. He afterward joined Liverpool, where he immediately rose to the position of a star player. During his four seasons at Anfield, Salah scored 91 goals in 149 appearances, becoming a key part of their success, including winning the 2017/18 Champions League title. He also recorded 44 goals during the 2019/20 league season, making him the second-highest scorer that year behind Robert Lewandowski. Currently, with over 8 goals in the 2022/23 Champion's League, he is in front of everybody else.
João Mário
After an impressive season with his team, he has established himself as a key player in Europe's premier club competition. He regularly delivers on both sides of the ball, and his performances have been nothing short of outstanding. The Portuguese midfielder's technical and tactical prowess has been instrumental in helping his team to succeed this season.
He is excellent at controlling the midfield, linking up play between defense and attack, and creating chances for teammates. Additionally, his defensive discipline is superb; he often puts pressure on opponents and anticipates danger early on in order to win back possession for his side. His all-around ability sets him apart from other players in the tournament and makes him a valuable asset to any team that qualifies for the Champions League knockout stages next year.
Kylian Mbappe
Kylian Mbappe has once again proven why he is one of the best players in UEFA's Champions League. The Paris Saint-Germain star playing in the 2022-23 season has already showcased his remarkable skills and talent on the pitch.
source - https://unsplash.com/photos/2wbnzrc-tHs
The 22-year-old French forward has scored 36 goals in all competitions since joining Paris Saint-Germain from Monaco back in 2018. Not only that, but Mbappe has also provided numerous assists to help his team reach higher heights. He was an instrumental figure for PSG when they won their historic quadruple treble last season. Undoubtedly, Kylian is set to achieve even greater feats with them in this campaign.
Robert Lewandowski
The Polish forward has been a consistent performer for Bayern Munich since joining Borussia Dortmund in 2014, and his impressive goalscoring record has seen him become one of the most feared strikers in Europe.
Lewandowski's deadly finishing ability and tireless work rate have made him a key figure for Bayern, with his tenacity and determination making him an invaluable asset to any team. In the previous season, he scored 40 goals as Bayern stormed to victory in the Bundesliga, DFB Pokal, and Champions League, becoming only the second team to complete such a historic treble.
The upcoming season promises to be another successful one for Lewandowski as he looks to continue his hot streak of form.
Mehdi Taremi
Mehdi Taremi is one of the best players in UEFA's 2022-23 Champions League. The Iranian forward has been instrumental in helping his club, FC Porto, reach the semi-finals of this season's competition, and he is currently the top scorer with eight goals. His performances on the pitch have caught the attention of many, and it is no surprise that some of Europe's biggest clubs are reportedly interested in acquiring him.
The 29-year-old has been a standout player for Porto since joining Al Gharafa Sports Club in 2019. He quickly adapted to life at his new club, scoring 28 goals and providing 17 assists across all competitions during his first two seasons at Estádio do Dragão. He has continued to impress this season, netting 11 times in just 11 Champions League appearances so far - making him one of its deadliest strikers.
Jude Bellingham
Jude, an English midfielder, is only 19 years old. He has already had a significant impact on European football. This season, he's undoubtedly going to have an even bigger impact.
Bellingham has proven himself to be one of the most complete midfielders in Europe, playing with confidence and poise beyond his years. He has shown an impressive range of passing, technique, and intelligence that allows him to drive forward play as well as defend effectively. Only a few players have more goals than him in the Champions League this year. Undoubtedly, he stands out amongst some of the continent's greatest talents.
His potential is limitless, and it will be fascinating to see how he develops further over the course of this season's tournament.
source - https://unsplash.com/photos/KDZW-_fMsuM
Erling Haaland
The 20-year-old Norwegian forward is making his mark on European football, earning a reputation as one of the most talented players in world football. In each of the past two seasons, he has excelled for Borussia Dortmund. Currently, Haaland is one of Europe's premier strikers.
Haaland has scored 37 goals in just 45 appearances since joining Dortmund from Salzburg during the 2019/2020 season. He currently sits at second place in the list of highest goal scorers since joining Dortmund and has become known for his clinical finishing, strength, and pace. This has seen him make a real impact on both club and international stages, cementing his status as one of Europe's best players in UEFA competitions.
Interested in watching the best players in UEFA perform for absolutely free?
The greatest FREE way to stream the UEFA Champions League in 2022–23 is with Soccerlive.app. This streaming platform offers the highest quality football streaming experience. Currently, it is the primary component that enables spectators to follow their preferred teams and athletes in real time. The platform lets you catch all of your favorite activities from the world's premier club competition. No matter where you are located.
The site provides a comprehensive range of features, making it one of the best ways to stream football matches worldwide. The app includes HD streams for all major competitions.