Top 10 Young Football Players in the World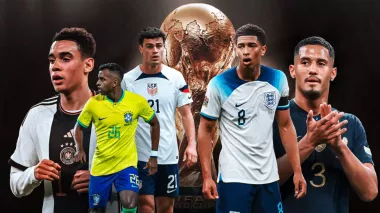 The world of football has become increasingly competitive, and with so many talented young players, it can be hard to choose who is the best in the game. Here we look at the top 10 young footballers in the world, analyzing their skills and achievements that have set them apart from other players. From defenders and midfielders to strikers and goalkeepers, these are some of the most promising talents in world football today.
Soccer is an intellectual, skillful, and physically demanding sport. Several young athletes are demonstrating their value on the field.
Alejandro Garnacho (Man Utd)
Alejandro Garnacho, a winger for Manchester United, is at position number 10. He is an under-20 international from Argentina who is 18 years old and has already scored in the Premier League. He is a Manchester United player who has been making waves in the football world with his impressive talent and skill on the pitch. Alejandro Garnacho's rise to fame has been undoubtedly remarkable, earning him the 10th spot on this list.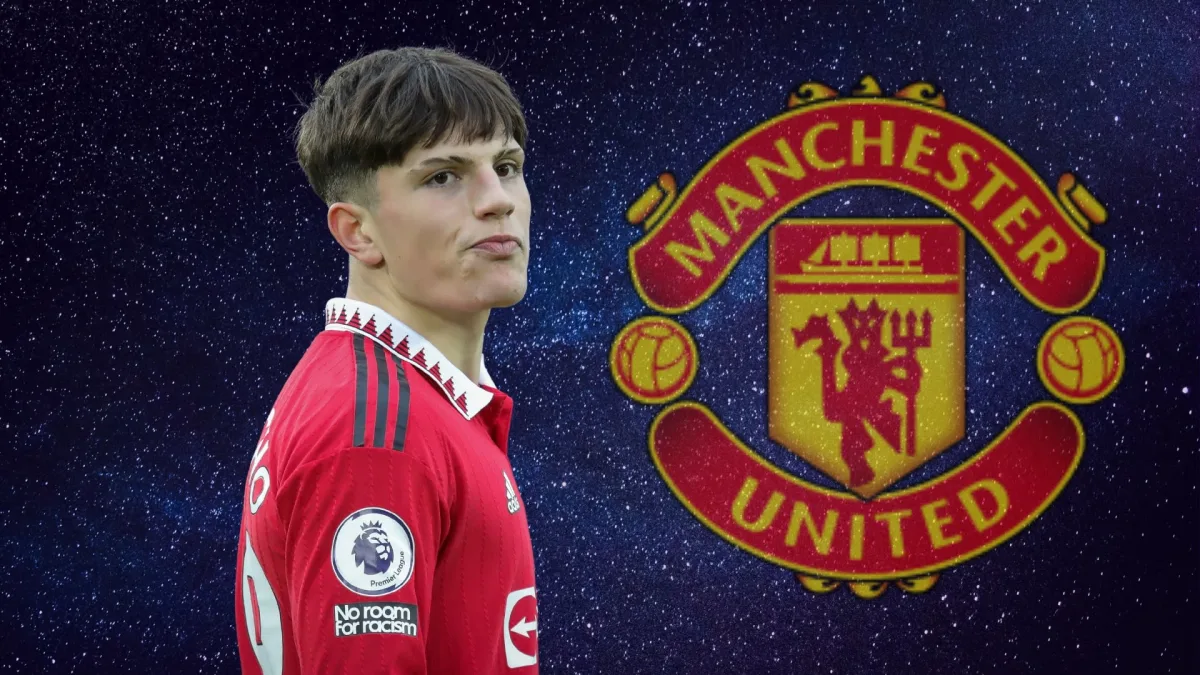 source - https://www.footballtransfers.com/
He is a tremendous threat in the final third because of his pace, dribbling skills, and precision finishing. Garnacho is seen as a potential star for his club and his nation, having previously represented Argentina at the Under-20 level.
Youssoufa Moukoko (Borussia Dortmund)
Youssoufa Moukoko of Borussia Dortmund comes in ninth place in our list.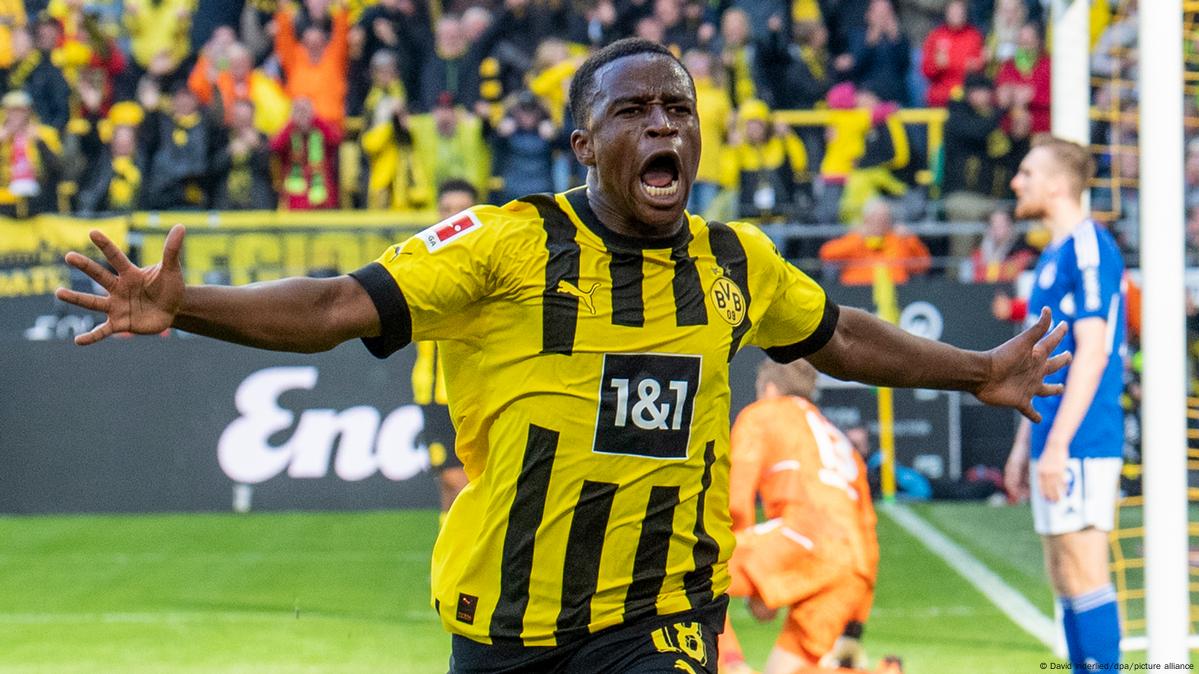 source - https://www.dw.com/
When he was just 13 years old, the German striker, now 18 years old, made a splash on the scene and has since been in the news frequently. Before making his senior debut for Borussia Dortmund at age 16, Moukoko scored more than 140 goals in the Under 17 and Under 19 Bundesliga combined. Since then, he has established himself as a dependable starter for the German team and has notched 11 goals in the Bundesliga.
Khvicha Kvaratskhelia (Napoli)
The Napoli winger Khvicha Kvaratskhelia comes in at number eight on our list. In 19 games for the Georgia national team, he has scored 10 goals as a smart offensive player who would shoot on sight.
After making an impact for Napoli in his debut season in Italy, the Georgian winger is a rising sensation in Serie A. Kvaratskhelia is a clever and inventive player with the capacity to play on either side. He is renowned for his dribbling prowess, quickness, and goal-scoring instincts. He has already scored 10 goals for Georgia at the international level and is anticipated to be a key player in their future success.
Eduardo Camavinga (Real Madrid)
The seventh-place finisher is Real Madrid midfielder Eduardo Camavinga. He commands attention in the midst of the park and has the skill to maneuver around obstacles.
source - https://www.dailymail.co.uk/
The French midfielder has been touted as one of international football's most promising young prospects. He recently made headlines when he moved from Rennes to Real Madrid in 2021. Strong and technically talented, Camavinga is at ease with the ball in his hands and making various passes. He has already won a number of significant titles with Real Madrid, and in the years to come, it is anticipated that he will play an important role for his club and his nation.
Jamal Musiala (Bayern Munich)
Jamal Musiala, an offensive midfielder for Bayern Munich, is ranked sixth. He has scored 20 goals in 73 Bundesliga games thus far.
One of Germany's most talented young players, the Bayern Munich midfielder has already had a significant influence at the Allianz Arena. While Musiala is a flexible player who can play in a variety of roles, offensive midfielder or winger is where he excels. He is renowned for his speed, dribbling skills, and technical abilities. He also has a strong eye for goals.
William Saliba (Arsenal)
The Arsenal center defender William Saliba is ranked sixth. He has helped Arsenal become a championship challenger since he is a strong defender with a change of pace.
source - https://sportscafe.in/
This season, the young French defender has been a revelation for Arsenal and crucial to their defense improvement. Saliba is a big, physically intimidating defender who is at ease on the ball and has excellent game sense. He is regarded as one of the most talented young defenders in the world of football, and many predict a successful future for him both at the club and international levels.
Gavi (Barcelona)
The Barcelona midfielder Gavi is ranked fourth. He has previously participated in 51 games with the squad and is slick and decisive when he gets the ball.
source - https://www.forbes.com/
The midfielder for Barcelona has been a revelation this year and has rapidly emerged as one of La Liga's most interesting young players. Gavi is a player with exceptional technical ability who is at ease with the ball and has a long passing range. He is seen as the club's future and has been likened to Xavi and Iniesta, two Barcelona icons.
Bukayo Saka (Arsenal)
Arsenal winger Bukayo Saka holds third place. He is well-known and has become a phenomenon when he first appeared.
source - https://www.arsenal.com/
One of the Premier League's most captivating players this season has been Arsenal's youthful winger, who has played an important role for both his team and his nation. While Saka is a flexible player who can play a variety of roles, he performs best as a winger or attacking midfielder. He is renowned for his inventiveness and goal-scoring abilities and has a fantastic change of speed.
Pedri (Barcelona)
The Barcelona midfielder Pedri is now in second place. He has received important individual awards and has been likened to Barcelona greats Xavi and Iniesta.
The Barcelona midfielder has emerged as one of La Liga's top performers this year. Not only that, but he is also one of the game's most intriguing young talents. Pedri is a skilled player, technically. Born in the Canary Islands, Pedri made the transition to playing professional football at the age of just 17. He first joined Las Palmas. Barcelona quickly became interested in him after seeing his strong Second Division exploits.
source - https://www.forbes.com/
In the summer of 2020, they signed him. Despite his youth and inexperience, Pedri immediately established himself as a crucial player in Barcelona's midfield. He wowed the team with his skill, vision, and work rate. Pedri assisted the squad in winning the Copa del Rey and advancing to the Spanish Super Cup final. He has also played for the Spanish national team a few times, receiving accolades for his maturity and poise.
Jude Bellingham (Borussia Dortmund)
Jude Bellingham, an England midfielder, is our final and first player. He has proven that he is the future of English football. Jude is now a top player for Borussia Dortmund.
source - https://www.90min.com/
English-born Jude Bellingham became well-known while playing for Birmingham City. At the time, he was 16 years old, making him the club's youngest first-team player. Borussia Dortmund was interested in him after seeing his achievements with the title squad. Borussia Dortmund signed him in the summer of 2020. Although young, Bellingham has already established himself as a fixture in Dortmund's midfield. This is all thanks to his vigor, determination, and technical proficiency. He has also represented England on a number of occasions, demonstrating his talent at the top level.
Stream their matches live
Watching the matches of the best young football players has never been easier, thanks to our online streaming website SoccerLive. It is more convenient for fans to stay updated on the latest soccer action thanks to this. They can readily watch live streaming of their favorite games from the comfort of their homes.
Fans used to often view live streaming of soccer games via Reddit soccer streams. Nevertheless, they were taken down because of copyright issues. SoccerLive is a dependable substitute that provides many streaming links for soccer. Thereby making it simple for fans to locate the games they want to watch.
Finally, SoccerLive offers live-streaming alternatives for all the major soccer leagues. This includes the UEFA Champions League, Premier League, La Liga, and others. Fans can also access soccer streaming for international tournaments such as the FIFA World Cup and the UEFA European Championship.
Conclusion
The three most captivating players in the Premier League this year have been Jude Bellingham of Borussia Dortmund, Pedri of Barcelona, and Saka of Arsenal. Saka is known for his ingenuity and ability to score goals. He is a versatile player who can play in several situations.
Pedri is compared to legendary Barcelona players Xavi and Iniesta. Furthermore, Pedri has won significant individual accolades. Bellingham, a midfielder for England, has established himself as a top performer for Borussia Dortmund. He has also shown that he is the future of English football. Lastly, fans may more easily remain up to speed on the most recent soccer activity. All thanks to online streaming services like SoccerLive.